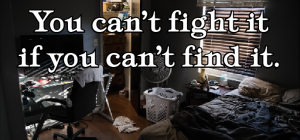 Coastal Coalition for Substance Abuse Prevention (CCSAP), the Craven County Task Force and NC ALE are teaming up to present a Town Hall Meeting to address underage drinking and substance abuse on Wednesday, April 12, from 6 to 8 p.m. at Grover C. Fields Middle School, 2000 Dr. Martin Luther King Jr. Blvd. in New Bern, NC. ALE Special Agent Matt Knight and several other state and local leaders will speak at the event, which is free and open to the public. The Town Hall Meeting is being held to educate parents, grandparents, healthcare providers, teachers and employers about drinking and substance abuse among our youth.
Knight's program will begin with an interactive demonstration that shows participants what warning signs to look for and where to find them in their teen's room. Volunteers will be invited on stage to search for things like torn plastic bags, deodorizers and even broken hangers.
Don't know why these items are red flags? Knight will discuss what might be happening in your teen's life if you find these things—everything from taking pills or drinking for the first time to actually dealing drugs. Knight explores trends among teens who abuse alcohol and drugs as well as slang, availability and prevalence of drugs in our area. This very informative program is for adults, as it will give them the tools to become empowered in their child's life.
After the interactive demonstration, Knight shares stories of his work as an ALE agent as well as personal stories that have changed the course of his life. The program will conclude with time for attendees to speak to our local leaders and visit vendor booths, which will be onsite to provide valuable local resource information.
For more information about the Town Hall Meeting, see CCSAP's website at www.ccsap.org or call the office at (252) 649-1615.
CCSAP is a five-county coalition covering Carteret, Craven, Onslow, Jones and Pamlico counties. The coalition is working on the 5th year of a Drug-Free Communities (DFC) grant through the Office of National Drug Control Prevention (ONDCP). Each county has a Substance Abuse Prevention Task Force working within its local communities. Our goals are reducing underage drinking and preventing misuse and abuse of prescription medications for our united vision: creating communities free from substance abuse.